Implants
Before & After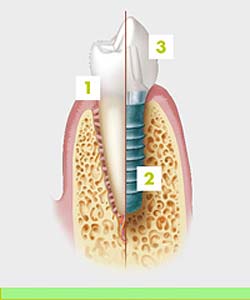 At Stuart Steven Dental Practice, we offer a short,free implant consultation for all patients who are interested in dental implants. The consultation involves a short oral exam,discussion regarding what treatment options may be suitable and what further information the clinic would require . The aim of this consultation is to clarify what the procedure may entail for your specific case. During the consultation a broad cost can be discussed, however a more detailed estimate and treatment plan will require a full assessment with appropriate xrays and the possible use of a CT scan. These will incur the normal charges.
Before & After
What is an implant ?
A tooth root made of titanium
A dental implant is a small part made of titanium which is placed in the jaw bone in place of the missing natural tooth root. The implant can be surgically inserted under local anesthetic on an outpatient basis. Titanium is generally well-tolerated by the human body and bone has been shown to bond well to titanium.
Once healed, the artificial root acts as a base for fixing individual crowns and multi-tooth bridges. The implant can also be used as an anchor for entire dental prostheses.
A short and painless operation for a long-term solution
In order to take over the function of the tooth root, the dental implant is inserted in the jaw bone by a short operation under local anaesthetic as an outpatient procedure. It knits painlessly with the bone, thus forming a solid basis for the long-term and stable fixation of the denture.

Notice
Not everyone is suitable for implants, certain things like smoking, and medical history can affect the success rate for implants. For best advice please contact us for a consultation appointment.